Series of air conditioners LG Art Cool Inverter V
Wall split systems
Information by catalog LG 2012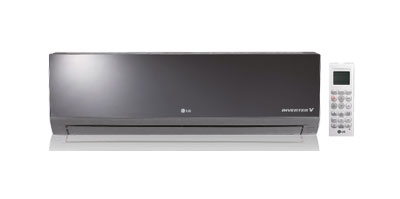 Models of wall split systems LG of the Art Cool Inverter V series
Functions and design features of wall split systems LG Art Cool Inverter V
Priority features
Inverter technology
Outstanding energy efficiency

Inverter technologies for regulating compressor capacity enable the user to significantly save energy costs.
Comfort
Quiet operation of indoor unit
Skew Fan technology

In the LG air conditioners, a Skew type fan with guide vanes located at some angle to the fan axis is used. This design significantly reduces the resistance of air passing through the heat exchanger, while reducing the noise level when the indoor unit is operating.
Air flow
Air flow distribution
4-Way Swing Function

With the help of a 4-way air supply, the LG split system ensures a quick and even distribution of the cooled air throughout the room.
Forced air cooling / heating
Jet Cool cooling mode

The Jet Cool ™ function allows you to quickly cool the room. In this mode, intensive air flow with high speed is applied for 30 minutes, until the room temperature reaches 18 ° C.
Air treatment
Triple Filter

The triple filter consists of three special filters that destroy various dangerous organic compounds, for example, formaldehyde. It can also remove unpleasant odors, creating a comfortable atmosphere.

1. A conventional deodorizing filter absorbs odors that cause headache and chronic fatigue.

2. An anti-formaldehyde filter deters harmful formaldehyde vapors, and also prevents dermatitis, attacks of nausea and pneumonia.

3. The VOC filter removes odors and hazardous volatile organic compounds that can emit items of furniture containing chemicals (carpets, paints, cleaners, furniture, etc.).
Plasma air purification filter
Plasmaster Filter

The new filter reliably clears the air of the smell of burning, dust and bacteria particles, as well as household mites, thus preventing allergic diseases and asthma attacks.
Antiviral, anti-allergenic filter
Antiviral / Antiallergenic filter

The tests carried out by authoritative institutes confirm that the antiviral / anti-allergenic filter element of the air purification system deactivates dangerous viruses, including the A (H1N1) virus.
Other features
Automatic cleaning
Automatic cleaning function

Prevents the formation of mold and the development of bacteria in the cavities of the indoor unit heat exchanger.
Design features
Fan drive BLDC

Rotor using a permanent neodymium magnet provides increased torque, which allows the fan to have high flow-rate characteristics.
Design
Stylish design

Enjoy the expressive design and perfection of the air conditioner style from LG.
Corrosion protection
Gold Fin Coating

The special protective covering of the fins of the outdoor unit heat exchanger protects it from corrosion, which arises from the influence of the environment on it, which is especially important in the conditions of large cities.
Installation
Technological installation

Close fitting of the unit to the wall

Increased volume of internal cavity for pipelines

Modified mounting plate

Removable bottom cover

Convenient location of the shut-off valves

Technological support