Series of air conditioners Toshiba PKVP DAISEIKAI
Wall split systems
Information by catalog Toshiba 2011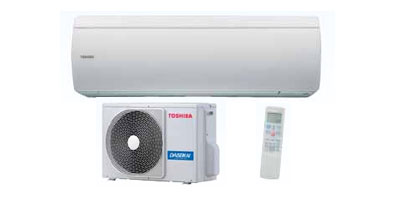 Models of wall split systems Toshiba of the PKVP DAISEIKAI series
Functions and design features of wall split systems Toshiba PKVP DAISEIKAI
Priority features
Inverter technology
Inverter technology

It was Toshiba who invented the inverter air conditioner and first brought it to the market in the early 80's. Advantages of the inverter: noiselessness, economy and precise temperature control - were highly appreciated by consumers of climate technology. Now about 25% of wall air conditioners in the world and up to 80% in Japan are of the inverter type. The original idea is adopted by a lot of competitors, but Toshiba remains the leader in the production of high-tech inverter air conditioners.
Air treatment
Plasma air purification filter
Plasma air purification

The two-stage active plasma air filter in Daiseikai air conditioners processes much larger volumes of air than the usual strainer, and provides the highest quality of cleaning.

To turn on the plasma filter is easy: press the PURE button on the remote control of the split system.

The plasma filter is easily cleaned: simply soak it in warm water for 10-15 minutes, rinse and dry. If the filter is heavily soiled, a conventional detergent can be added to the water.

The plasma filter does not require replacement. It will last for many years - the same as the air conditioner Toshiba Daiseikai itself!
Other features
Automatic cleaning
Self-cleaning system

The new Toshiba self-cleaning system prevents moisture accumulation on the heat exchanger, preventing mold formation inside the air conditioner.

When you turn off your air conditioner, the indoor unit fan runs for another 20 minutes, draining the heat exchanger, and then turns off automatically.