Series of air conditioners LG Maestro Inverter
Wall split systems
Information by catalog LG 2010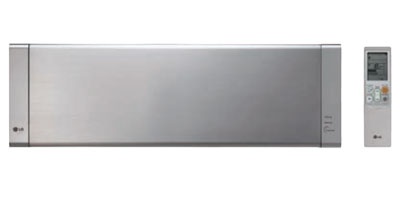 Models of wall split systems LG of the Maestro Inverter series
Functions and design features of wall split systems LG Maestro Inverter
Priority features
Night mode
Sleep mode

One press of the sleep button automatically programs the air conditioning shutdown and fan speed control, and also sets the most comfortable temperature for sleep.
Air flow
Forced air cooling / heating
Jet Cool cooling mode

The Jet Cool ™ function allows you to quickly cool the room. In this mode, intensive air flow with high speed is applied for 30 minutes, until the room temperature reaches 18 ° C.
Air treatment
Triple Filter

The triple filter consists of three special filters that destroy various dangerous organic compounds, for example, formaldehyde. It can also remove unpleasant odors, creating a comfortable atmosphere.

1. A conventional deodorizing filter absorbs odors that cause headache and chronic fatigue.

2. An anti-formaldehyde filter deters harmful formaldehyde vapors, and also prevents dermatitis, attacks of nausea and pneumonia.

3. The VOC filter removes odors and hazardous volatile organic compounds that can emit items of furniture containing chemicals (carpets, paints, cleaners, furniture, etc.).
Plasma air purification filter
Filter Cyclotron Plasma

Developed by LG Electronics, the Plasma air purification system reduces the amount of minute dust and dust, and also removes household mites, plant pollen and animal wool, preventing allergic diseases and asthma attacks. The third-generation plasma filter, by its efficiency, exceeds the filters of the second generation by 30% due to the combined use of electric and magnetic fields.
Antiviral, anti-allergenic filter
Antiviral / Antiallergenic filter

The tests carried out by authoritative institutes confirm that the antiviral / anti-allergenic filter element of the air purification system deactivates dangerous viruses, including the A (H1N1) virus.
Design features
Corrosion protection
Gold Fin Coating

The special protective covering of the fins of the outdoor unit heat exchanger protects it from corrosion, which arises from the influence of the environment on it, which is especially important in the conditions of large cities.